Plumbing & Heating Techs Serving Astoria, NY
Plumbing & Heating Work Done Right the First Time
Any heating and plumbing company can give you a cheap price. But cheap prices often come with expensive repeat work. At Ranshaw, we guarantee a job well done—the first time around. We set ourselves apart by offering high-quality, reliable plumbing and heating services in the Astoria area.
Unlike other Astoria plumbing & heating companies, we offer:
Highly-trained professionals,

that do the job right the first time

Reliable scheduling,

so you can count on us for timely service
Our plumbing & heating services in Astoria:
Customer Story in Astoria, NY
Fixing an emergency water leak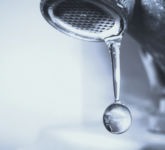 Problem: Astoria homeowner, Kimberly, was shocked when she suddenly found a bad leak in her basement. Fearing expensive water damage, Kimberly quickly called our team in need of a fast response.
Solution: Less than 2 hours after Kimberly discovered the leak, our plumbers, Hing and Joe, arrived on the scene. They quickly located the source of the leak—a defective bathtub faucet in the first-floor bathroom.
After a thorough inspection, they determined that the plumbers who originally installed the bathtub cut the trip lever too short. Using the crawl space underneath the tub, Hing and Joe worked together to remove the old trip lever and install a new one at the correct length.
Because of Hing and Joe's fast action, Kimberly avoided expensive water damage bills. Plus, she gained peace of mind knowing she now had a properly functioning bathtub faucet.
"I will definitely use this company in the future."
Their customer service was exceptional and informative. They got started right away in trying to figure out what was causing the leak. I will definitely use this company in the future.
Serving the NYC metro area, including:
And everywhere in between!