Pipe leak repairs in Queens, NY
Rely on Ranshaw for Your Pipe Leak Repair Needs
When a water pipe is leaking in your home, it needs attention immediately. And when you hire a pro to fix it, you need assurance that they'll get the job done right. With Ranshaw, you can trust that you're hiring reputable and highly-trained plumbers who keep their promises and deliver great service experiences. Hundreds of 5-star reviews and our 100% satisfaction guarantee back up our work. Call us today for efficient, reliable plumbing service!
You'll get the following and more with our pipe leak repairs:
Highly-trained plumbers

who save you time and money by fixing your pipe leaks right the first time

Reliable same-day scheduling

so you can always count on us for timely service
Servie details
What's Included in Your Pipe Leak Repair
Diagnosis and Upfront Pricing:

Our professional plumbers will arrive at your Queens home with all the tools necessary to make the repairs, along with shoe covers which can be worn upon request to keep your flooring clean.

We will investigate your water pipes to identify the extent of the leak and the needed repairs. Some issues, such as leaking pipes under a sink, are easy to diagnose. However, harder-to-access leaks behind a ceiling or wall will be more challenging to assess. During our thorough diagnostic, we'll inform you if we need to open a wall or ceiling and include it in our quote.

Fixing the Leak:

From there, we will provide you with possible repair options and firm upfront pricing so you'll know the exact cost of the repair before any work begins. We stick with our estimates—every time. Once you've green-lit the quote, we'll repair your pipe leak.

Some common reasons for pipe leaks include:

Frozen pipes: Any exposed outdoor pipes will crack or burst open when any ice inside them expands.
Blocked pipes: A blocked pipe can crack or burst under enough pressure.
Corroded pipes: Pipes with rust buildup become brittle and more susceptible to breaks.
Tree roots in pipes: While this isn't a common problem, tree roots can push into underground pipes and split them.

Our pipe leak repairs always include:

A trained plumber who is polite, professional, and thorough.
Convenient same-visit repairs, which are possible due to our fully-stocked service trucks.
No messes because our plumbers always clean up before leaving your home.

Average time to complete: 1-2 hours.

Guarantees and Warranties:

When you choose Ranshaw to repair your plumbing pipes, you get high-quality and professional workmanship. We're committed to providing you with the best plumbing service in the Queens, NY area. Giving homeowners peace of mind means backing up our work with strong warranties and guarantees so that they know they're protected no matter what.

All of our pipe leak repairs come with:

1-year labor warranty: Each pipe leak repair is protected for up to a year after service. Our industry-leading warranty resolves any problems caused by any new piping or parts we install.
100% satisfaction guarantee: We'll make it right if you're not 100% thrilled with our service. Your satisfaction means the world to us. If something happened during the repair that wasn't up to your standards, just let us know, and we'll send a plumber straight away to your home.
Price
How Much Does It Cost to Repair a Pipe Leak?
How much does a pipe leak repair cost in the Queens area? Well, it mainly depends on these main factors:
The location of the leak: An exposed pipe is a lot easier to reach and more affordable to repair than a hard-to-reach pipe. Any pipes inside walls, deep underground, or in the back of a crawlspace will cost more to repair as plumbers need more time to find and repair the leak. An expert Ranshaw plumber can perform a thorough diagnostic to locate the leak efficiently, and then you'll receive multiple repair options based on your budget and plumbing needs.
Demolition work: As mentioned above, demolition work may be necessary to access a leaking pipe that's hidden or difficult to access. If any walls or ceilings need to be opened to access the leaking pipe, the overall cost of the repair will be higher.
The material of the pipe: Depending on the type of piping material you have, the repair cost can vary. For example, copper plumbing pipes will have higher repair costs than PVC pipes because a plumber needs to solder the leak.
Contact Ranshaw for an accurate repair cost and an in-home diagnosis that is FREE with the repair.
How Scheduling Works
Scheduling Your Pipe Leak Repair Works Like This:
Contact Us

Concerned about a pipe leak in your home? The best thing to do is call Ranshaw at (718) 767-0707 or fill out our easy online form to schedule your appointment today for service in Queens and the surrounding areas. We have same-day service availability, and we'll complete your pipe leak repair on the same visit in most cases.

Pick Your Preferred Day and Time

Choose the day or time that works for your busy schedule, and we'll save your spot.

Get an Arrival Call

On the day of your pipe leak repair, we will give you a courtesy call 20-30 minutes before our arrival so you don't have to wait around all day.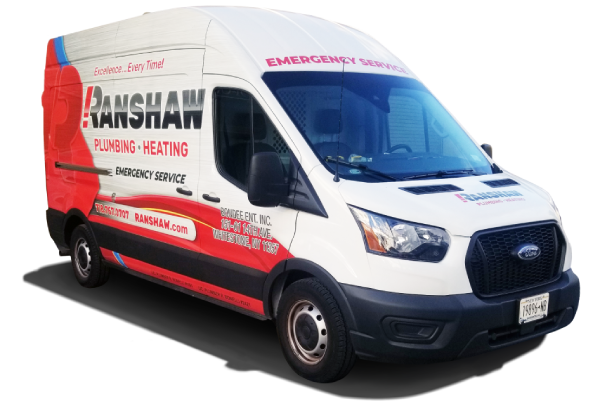 Education
5 Signs of a Leaking Pipe in Your Home
Most leaking water pipes go unnoticed by homeowners. Learning the warning signs of a hidden water leak can help you prevent serious home damage.
These are the top 5 signs of a leaky pipe in homes:
Higher-than-normal water bills: If your household's water usage hasn't changed, but the water bill has steadily increased in the past few months, you could have a leak. Shut off all your water appliances and check if your water meter still runs.
Moldy, musty, or unpleasant odors: Maybe you see no visible signs but smell a moldy or sewage odor lingering in the air. Rotten egg smells are a strong indicator you have a pipe leak.
Water-stained ceilings, walls, and floors: If you notice visible water stains on your ceilings or damage to your drywall, you most likely have a hidden leak somewhere in your home's plumbing.
Hissing or splashing noises: Any unusual noises from your home's pipe can indicate a pipe is leaking.
Low water pressure: Low water pressure can be caused by a variety of factors, including a leaking pipe.
Get Pipe Leak Service Faster Than a New York Minute
Serving the NYC metro area, including:
And everywhere in between!