Pipe leak repairs in Queens, NY
RELAX … Ranshaw Provides Worry-Free Pipe Leak Repairs
When a water pipe is leaking in your home, it needs attention immediately. And when you hire a pro to fix it, you need assurance that they'll get the job done right. That's why you should trust the pros at Ranshaw.
When you hire Ranshaw for your pipe leak repair, you get:
Trained plumbers

who fix your pipe leaks right the first time

Reliable scheduling,

so you can count on us for timely service
Servie details
What's included in your pipe leak repair
Diagnosis and upfront pricing

A professional plumber will investigate the leak to identify the extent of the repair. From there, he'll provide you with upfront pricing, so you'll know the cost to repair your pipe leak before any work begins.

While some pipe leaks are easy to diagnose, such as a leaking pipe under a sink, leaks behind a ceiling or wall can be more challenging to assess. If our plumber needs to open a wall and/or ceiling to find a leak, they will inform you and quote you a price before getting started.

Fixing the leak

Includes:

A trained plumber who is polite, professional, and thorough.
Convenient, same-visit repairs, which is possible since our trucks are fully stocked with parts.
No messes, since your plumber will clean up before leaving your home.

Average time to complete: 1 hour.


Guarantees and warranties

1-year labor warranty. We stand behind our pipe leak repair work 1 year after service for any new piping and/or parts we install.
100% satisfaction guarantee. If you're not 100% thrilled with our service, we'll make it right.
Price
Cost of a pipe leak repair
Wondering how much a pipe leak repair costs in the Queens area? Well, it mainly depends on these factors:
The location of the pipe leak (if leaking pipe is not exposed or hard to reach, this will add to the cost)
The material of the pipe (if it needs replacing)
Cleanup and cosmetic repairs (if necessary)
To get an accurate repair cost, contact us for an in-home diagnosis, which is FREE with the repair.
How scheduling works
Scheduling your pipe leak repair works like this:
Contact us

Pick your preferred day and time

Choose the day or time that works for your busy schedule and we'll save your spot.

Get an arrival call

On the day of your pipe leak repair, we will call you 20-30 minutes before arrival, so you don't have to wait around all day.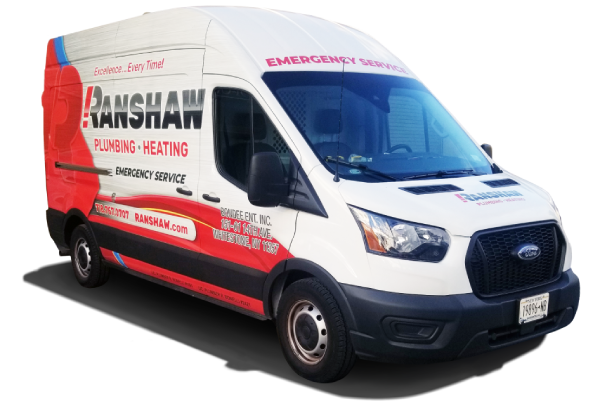 Education
5 signs of a leaking pipe in your home

Most leaky pipes go unnoticed by homeowners. Learning the warning signs of a leaking pipe can help you prevent serious damage to your home.

To help, here are the top signs of a leaky pipe in your home:

Higher-than-normal water bills
Visible mold & mildew
Water-stained ceilings, walls and floors
Rooms/areas that smell musty
A running water meter (when all water appliances are shut off)
Serving the NYC metro area, including:
And everywhere in between!