Commercial Boiler Installation in Queens, NY
Commercial Boiler Replacements You Can Count On
Commercial boiler installations are complex—not just any company can do them correctly. That's why businesses in the Queens/NYC area choose Ranshaw for their boiler replacement needs. Our licensed team is known for providing high-quality boiler installations. From our thorough design and engineering process to the skilled workmanship of our plumbers, you can rest assured your new boiler system will be installed safely, correctly and to your complete satisfaction.
When you choose Ranshaw to replace your commercial boiler, you can expect:

Licensed professionals

and an efficient, code compliant boiler system design

Skilled workmanship

and a boiler system that is built to last

60+ years of experience
Service details
What's included in your commercial boiler installation:
Site survey

An experience boiler technician will perform a thorough survey of your existing boiler system, which includes:

A heat loss survey (hydronic/water system) or radiator survey (steam system) to ensure your new system is properly sized to the heating demands of your building.
Assessment of heating system components that may require modifications. This includes associated piping, breaching, chimney modifications, boiler room modifications/ventilation.

Boiler system design & proposal

Our licensed master plumbers will work with an engineer (ours or yours) to create a mechanically-efficient, code-compliant boiler system design. We'll provide a detailed proposal with pricing for your review/approval.

Utility company coordination (if applicable)

If you're converting from oil to gas, or the gas service to your existing boiler was shut down prior to replacement, we'll handle all coordination with your utility company to get your new system up and running.

File permits/Engineered plans/Asbestos sampling report

We file all necessary permits with the NYC Dept. of Buildings needed to begin work.

Installing the new boiler system

Once permit(s) are approved, we'll create a schedule of work, which will include installing the boiler equipment itself and making the necessary modifications to the heating system's components as outlined in the proposal.

Start-up & testing

We'll start up and test your new system to make sure everything is running smooth. We'll also do a thorough walk through and provide operating instruction so you know exactly how to operate your new equipment.

Inspection & sign-off

The final step is to schedule an inspection with the Dept. of Buildings to inspect the work and sign off to complete the project, which we fully coordinate.
Price
Cost to install a commercial boiler in Queens
The cost to install a commercial boiler in the Queens/NYC area all depends on:
The type & size of the system. Oil boilers are generally more expensive than gas boilers. Additionally, the larger the boiler system, the more it will cost.
The efficiency of the boiler system. The more efficient the system, the more it typically costs.
Whether additional modifications are needed. The cost of your commercial boiler installation increases if new pumps or a new expansion tank is needed or if piping needs to be modified or replaced.
To get an accurate installation cost, contact us for an on-site estimate.
How scheduling works
Scheduling your commercial boiler installation works like this:
Contact us

Pick your preferred day and time

Choose the day or time that works for your busy schedule, and we'll save your spot.

Get an arrival call

On the day of your installation, your boiler technician will call you 20-30 minutes before arrival, so you won't have to wait around all day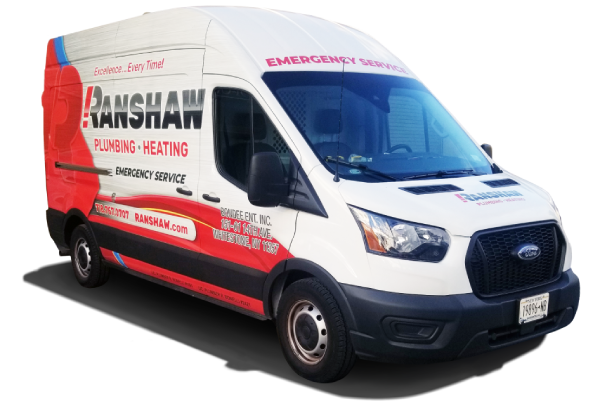 Signs you need this
Signs it's time to replace your commercial boiler
Your boiler is 15-20 years old. As boilers reach the end of their lifespan, they lose efficiency and require frequent, costly repairs. If your commercial boiler is nearing (or has reached) this age, it's probably time to replace it.
You've noticed leaks. While leaks are not always a sign that your boiler needs to be replaced, they can indicate that the system is nearing the end of its life. Boiler leaks can also turn into very costly situations if they aren't addressed immediately.
Energy bills have spiked. As we mentioned above, as boilers age, they become less efficient, which means you'll likely see an increase in your company's heating bills. If you haven't changed the temperature of your space significantly, but are noticing a big change in your energy bills, it may be time to replace your boiler.
Your building has hot & cold spots. Over time, your boiler will struggle to heat your building evenly. If there are some parts of your building that are cold and others that are warm, this may be an indicator that it's time to replace your commercial boiler.
Think you might need a new boiler? Give us a call. We'll look at your boiler and let you know if it's time to replace it.
Get service faster than a New York minute
Serving the NYC metro area, including:
And everywhere in between!