Water Heater Installation in Queens, NY
Get a Top-Rated Water Heater Installation With Ranshaw
A broken hot water heater can be stressful. Don't add more stress by hiring the wrong plumber when your water heater needs to be replaced. For worry-free water heater installations, choose the pros at Ranshaw.
When you hire us, we give you:
Trained plumbers

that install your water heater right the first time

Reliable scheduling,

so you can count on us for timely service
Service details
What's included in your water heater installation
Assessment and upfront pricing

Before suggesting a replacement water heater, we'll first come to your home to inspect your current water heater system. We'll speak with you about options based on your hot water needs. This allows us to select the precise water heater that will perform best for you and your home.

Plus, we always provide a firm upfront price estimate so that you know exactly how much you'll pay before any work begins.

Installing your water heater

During your water heater installation, a trained plumber will:

Disconnect and dispose of your old water heater.
Install your new water heater (whether it's gas, oil, tankless or indirect).
Test your new unit to make sure everything's working properly.
Clean up their work area before leaving your home.

We install the following water heater brands*:

*We can install water heateres from other manufacturers. If you are interested in another brand, please inform our staff.

Average time to complete water heater installation: 2-3 hours


Guarantees and warranties

At Ranshaw, our reputation for high-quality work means a great deal to our team. In that regard, we promise to always work hard to provide the best installation service around. Part of that promise means we back our work with strong warranties and guarantees.

All of our water heater installations come with:

1-year labor warranty. We stand behind our water heater installation work 1 year after service.
100% satisfaction guarantee. If you're not 100% thrilled with our water heater installation service, we'll make it right.
Price
Cost to install a water heater in Queens
The cost to replace a water heater in Queens or a surrounding area varies widely. In fact, you could expect a water heater installation to cost anywhere from $2,200 to $4,500+.
The cost you end up paying for your water heater installation all depends on multiple factors, including:
The type of water heater (tank vs tankless). Tankless water heaters typically cost more to install. However, they can provide considerable energy savings throughout their lifetime and they have a longer lifespan. Keep in mind, though, that tankless models won't work for every home and family. Our plumbers can help walk you through the pros and cons of tank and tankless water heaters to help you make the right decision.
The capacity of the water heater. The higher the water heater's capacity, the more it typically costs. Tank water heater capacity is measured by how many gallons of hot water it can hold in the tank. Tankless water heater capacity, however, is measured by how many gallons of hot water it can provide in a minute. Our plumbers will inspect your current setup and ask about your hot water usage in order to ensure your new water heater is sized perfectly for your needs.
The contractor you hire. Higher-quality contractors may charge more for their water heater installation work but they'll likely save you money in the long run. That's because higher-quality contractors will get the job done correctly the first time around, saving you time and money on repeat work.
The type of warranty you purchase. Most manufacturers offer extended warranties that cover the cost to replace your water heater due to material or workmanship defects. The type of warranty you choose will impact the overall cost of your water heater installation.
For more information on water heater installation costs, check out our blog, "How Much Does it Cost to Replace or Repair a Water Heater in NYC?".
To get a more accurate cost on your water heater installation, contact us for an in-home estimate.
How scheduling works
Scheduling your water heater installation works like this:
Schedule your estimate.

You can request an estimate either by filling out our online form or calling us at (718) 767-0707. As soon as you contact us, our team will work quickly to schedule the estimate on a day and time that works best for you.

Get water heater options & upfront pricing.

After inspecting your current setup and speaking with you about your hot water usage, we'll walk you through options customized to your budget and hot water needs. Plus, we always provide upfront price estimates in writing, before any work begins. That way you'll always know exactly what you'll end up paying.

Get your water heater installed right the first time.

Once you select the perfect water heater for your home and approve our price estimate, we'll prepare for a smooth, safe and high-quality installation. On the day of the installation, we'll contact you 20-30 min before our arrival. Upon arrival, our crew will work carefully in your home and clean up their work area before leaving.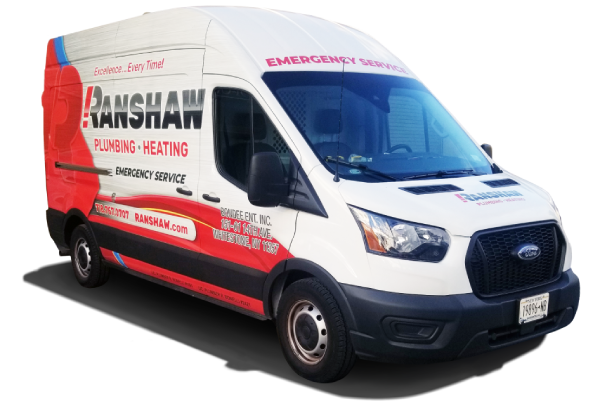 Upgrade options
Safeguard your home from water heater leaks
Never worry about water damage again. We install powerful flood prevention tools that can protect your home from a major plumbing catastrophe. When leaks are detected, these devices automatically cut off water to the water heater and even sound an alarm to protect you from a disastrous flood.
For more information about these flood prevention devices or to get a quote, contact us today.
Serving the NYC Metro area
And everywhere in between!