Annual New York City Boiler Inspections in Queens, NY
Rely on Ranshaw for NYC Annual Boiler Inspections from Licensed, Qualified Professionals
If you own or manage a property in the NYC area and need to schedule your annual boiler inspection, Ranshaw can help.
We've performed thousands of boiler inspections during our 60+ years in business. You can rely on us to ensure your boiler room and boiler are up to code and trouble-free.
When you book your annual boiler inspection with Ranshaw, expect 5-star service including:
Licensed professionals

well-versed in NYC building code requirements

Annual reminders

to help you stay on schedule every year
Service Details
What's included in your NYC low pressure annual boiler inspection?
Visual inspection of your boiler

A Ranshaw technician will perform a thorough visual inspection to ensure both your boiler room and heating equipment meet NYC code.

Some of the items we evaluate during the inspection include:

Boiler room conditions
Is the boiler room cluttered or free of debris and storage?
Do the boiler room lights work?
Are there any holes in the walls and ceilings?
Does the boiler room door open to egress?
Is there a remote switch outside the boiler room door?
Breeching / Chimney
Is the flue pipe (exhaust) and chimney free of cracks and openings?
Combustion Air
Boiler Controls
Gages
Relief / Safety Valves
Boiler Wiring
Do the low water cut-offs work?
Is the gauge glass clean and free of leaks?
Corrosion or leaks on piping in boiler room?
Is the piping in the boiler room properly supported?

Boiler logbook

NYC DOB requires an annual report and monthly boiler log forms to be kept inside the boiler room at all times.

We ensure you're compliant by providing the following:

Annual report completed by Ranshaw.
Logbook containing a copy of the annual report along with monthly log forms.
Instructions on how to perform a monthly check of the boiler and how to complete monthly log forms. This can be completed by the owner or those attending to the boiler.

Tune-up and test boiler

Does the boiler meet minimum efficiency standards? Do all controls and piping meet code?

NYC requires testing of the boiler controls and safety devices by having annual maintenance service performed. This can be completed by a Ranshaw technician or your own service provider.

Corrections (if necessary)

If any issues are found that prevent a passing inspection, we will advise you, so you have an opportunity to make the necessary correction(s) prior to filing.

If your boiler needs repairs to pass inspection, we'll produce a proposal outlining repairs needed to bring your boiler up to code. We also provide clear, honest, and upfront pricing. That means once you've signed off on the proposal, you'll never have to worry about receiving a surprise bill.

Filing

An inspection report must be filed with the NYC Department of Buildings within 14 days of the date of the inspection. Since dealing with the DOB can be complicated, we can file the inspection report on your behalf and save you the trouble.

Reminder

At Ranshaw, we're all about convenience for our customers. We'll let you know when your building is due for its next annual boiler inspection, so you know when it's time to schedule your appointment the following year.
Price
How much does a NYC low pressure annual boiler inspection cost?
The cost of an annual boiler inspection in New York City depends on a few key factors, including:
Boiler inspection fee. Ranshaw charges a flat fee for the inspection itself, which varies by borough. When you contact us to schedule service, we'll let you know how much the fee is upfront.
The number of boilers. The more boilers we need to inspect, the higher the overall fee for the inspections. During your estimate, we'll provide you with a fixed price quote so you know the exact cost.
Annual tune-up and control testing. This fee depends on the type of boiler you have and the complexity of your system.
Whether repairs are needed. Depending on the condition of your boiler(s), we may need to make repairs or "corrections" to pass inspection. We'll quote you a price to do the repairs separate from the inspection fee.
To get an accurate estimate for the cost of your boiler inspection, contact Ranshaw today.
Scheduling
Scheduling your NYC low pressure annual boiler inspection works like this:
Contact Us

We make scheduling your boiler inspection easy. Just give us a call at (718) 767-0707 or fill out our online appointment form. We'll confirm a convenient day and time for your boiler inspection, possibly even the same-day. We know you have a busy calendar, so we'll be happy to work around it.

Get an Arrival Call

For your convenience on the day of your boiler inspection, our courteous and professional team will call you 20-30 minutes ahead of time. That way, you won't have to wait around all day prior to our arrival.

You Boiler Inspection is Performed

Our licensed professionals take pride in providing comprehensive, top-notch quality workmanship. During your boiler inspection, we'll cross every "t" and dot every "i" to ensure that your boiler is up to code and passes the final inspection.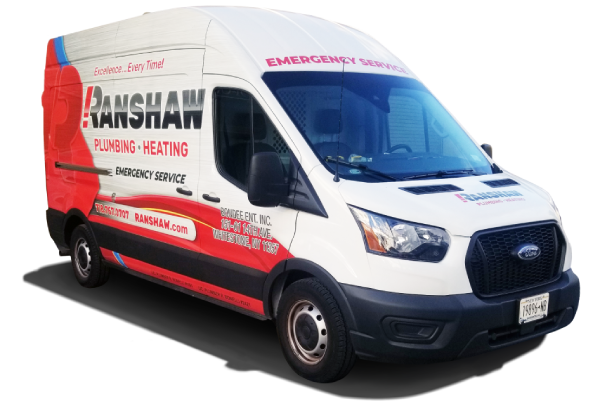 Education
The NYC DOB requires an annual inspection to be performed on the following types of boilers:
Low-pressure boilers in residential buildings with 6 or more families
Low-pressure boilers in any residential buildings classified as Single Room Occupancy dwellings (SRO's)
Low-pressure boilers in mixed-used buildings
Low-pressure boilers in commercial buildings
H-stamp domestic hot water heaters with over 350,000 BTUs in residential, mixed-use and commercial buildings
What happens if I don't schedule my boiler inspection?
Failure to have your annual boiler inspection performed results in fines imposed by the DOB of:
$50 per boiler/month
$1,000 maximum fine per boiler/year
Click here for more information on boiler inspection and filing requirements from the NYC DOB.

Schedule Your Annual Boiler Inspection Faster Than a New York Minute
Serving the NYC metro area, including:
And everywhere in between!