Boiler Installation in Queens, NY
Ranshaw Sets the Standard for Boiler Installations
For quality boiler installations in Queens and the surrounding area, choose Ranshaw. We guarantee the right equipment, professionally installed by a team of plumbing and heating experts.
When you choose Ranshaw to install your boiler, we give you:
Trained boiler techs

that install your boiler right the first time

Reliable scheduling,

so you can count on us for timely service
Service details
What's included in your boiler installation
Assessment and upfront pricing

Before suggesting a replacement boiler, we'll first come to your home to perform either a heat loss survey for hydronics/hot air systems or a radiator survey for steam systems. This allows us to select the precise boiler size according to your heating needs. We'll also determine if other modifications are needed (piping, ventilation, radiators, etc.).

Plus, we always provide a firm, upfront price estimate so that you know exactly how much you'll pay before any work begins.

Installing your boiler

During your boiler installation, a trained team of technicians will:

Disconnect and dispose of your old boiler.
Install your new one (whether it's gas, oil, steam or hot water).
Test your new system to make sure it's working like it should.
Clean up their work area before leaving your house.

Boiler brands we install include:

Weil McLain
Peerless
Burnham
HB Smith
Williamson
Laars
Lochinvar
Slant/Fin
Triangle Tube
And more!

Average time to complete boiler installation: 1-2 days

Guarantees and warranties

When you choose Ranshaw to install your boiler, we are committed to giving you peace of mind that you're getting the best installation service around. That's why we offer strong warranties and guarantees for our boiler installation work.

All of our boiler installations come with:

1-year labor warranty. We stand behind our boiler installation work 1 year after service.
100% satisfaction guarantee. If you're not 100% thrilled with our boiler installation service, we'll make it right.
Price
How Much Does it Cost to Install a Boiler?
The cost to repair a boiler in Queens or a surrounding area varies widely. In fact, you could expect a boiler installation to cost anywhere from $5,200-$12,500+.
The cost you end up paying for your boiler installation all depends on multiple factors, including:
Boiler size. Boilers are sized by how much heat they provide (measured in BTUs). The higher the BTU-output of a boiler, the more it will cost. The size boiler you need isn't necessarily a choice you get to make, rather it's determined by the unique heating needs of your home. Our techs will always accurately measure for the size boiler you need, which saves you money and increases comfort.
Other components. Aside from the boiler itself, other components of your heating system may need to be addressed when installing a new boiler. This can include components such as plumbing lines, radiators/valves and your boiler's exhaust/venting.
Whether you're switching to natural gas. If you're switching from an oil boiler to a natural gas boiler, the overall cost of your boiler installation increases, especially if your home doesn't already have gas supply coming in. Learn more about the cost to convert from oil to gas heat.
The contractor you hire. Higher-quality contractors may charge more for their boiler installation work but they'll likely save you money in the long run. That's because higher-quality contractors will get the job done correctly the first time around, saving you time and money on repeat work.
For more information on the boiler installation costs, check out our blog, "How Much Does it Cost to Replace a Boiler Repair in NYC?".
How scheduling works
Scheduling your boiler installation works like this:
Schedule your estimate.

Get boiler options & upfront pricing.

After performing the appropriate calculations, we'll walk you through options customized to your needs. Plus, we always provide upfront price estimates in writing, before any work begins. That way you'll always know exactly what you'll end up paying.

Get your boiler installed right the first time.

Once you select the perfect boiler for your home and approve our price estimate, we'll order your system and all the necessary parts then schedule a day to complete the installation. On the day of the installation, our crew will work carefully in your home and clean up their work area before leaving.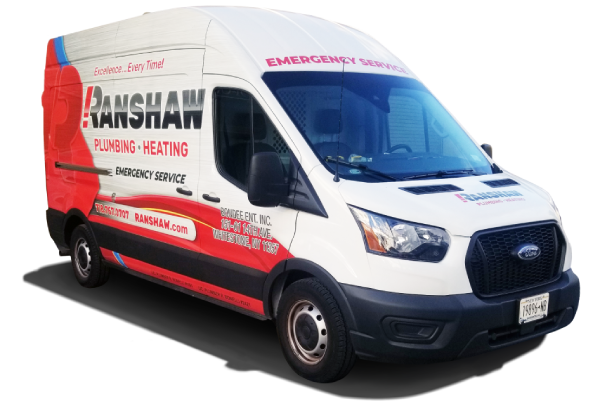 Education
Signs your boiler needs to be replaced
If your boiler is older than 20 years and you answer "yes" to any of the questions below, it might be time to get a new one.
Does your boiler need frequent repairs? If your boiler starts needing 1 or more repairs every 6 months, it's probably best to replace it.
Are you paying more in energy costs than you used to? The older your boiler gets, the harder it works to heat your home. Also, scale buildup can cause your boiler to use more fuel than normal.
Do you see yellow burner flames? Burner flames should be blue. Yellow flames are a sign that your boiler fuel isn't burning correctly and should be replaced sooner rather than later.
Do you see leaks? Boilers can leak (from cracks, damaged seals and high pressure) as they get older. If you notice leaks on your boiler, it's time to call a professional.
Think you might need a new boiler? Give us a call. We'll look at your boiler and let you know if it's time to replace it.
Serving the NYC metro area, including:
And everywhere in between!