How Often Does a Commercial Boiler Need Service in New York?
March 10, 2022
---
It's important to maintain your commercial boiler regularly throughout the year.

If you own or manage a building with a commercial boiler in the NY area, you might be wondering how often it needs maintenance. Unlike smaller boilers, like those used to heat a private home or smaller property, commercial boilers undergo heavy usage and need to be serviced regularly throughout the year to optimize performance.
Professional technicians recommend at least once a year (seasonal) before the heating season starts, as well as ongoing maintenance throughout the course of the year.
So, to further explain what goes into commercial boiler maintenance and why it's beneficial, below we'll review:
Benefits of commercial boiler maintenance
Signs a commercial boiler needs maintenance
What's included in commercial boiler maintenance
We'll also help you find a trustworthy heating contractor to provide commercial boiler maintenance.
---
Ready for a reliable commercial boiler maintenance?
Call Ranshaw at (718) 767–0707 or schedule below. We offer complete commercial boiler services in the Queens, NYC area with technicians that know commercial boiler systems inside and out.
Schedule Service
---
Benefits of Commercial Boiler Maintenance
It's important to protect your investment and business with commercial boiler maintenance.
Some key benefits of regular maintenance include:
Avoiding costly breakdowns: Regular maintenance service visits can catch minor issues before they become large, pricey repairs.
Avoiding downtime: Getting your heating system up and running again quickly is critical when a boiler breakdown occurs. Keep in mind that boiler professionals become less available when demand for service increases during the heating season (Oct-March). Additionally, further delays can happen if a part(s) that needs replacing is unavailable and on backorder. Catching issue(s) outside of the heating season (Spring/Summer) during a scheduled maintenance visit helps avoid downtime when you need your boiler most.
Reducing costs in the long run: A more efficient boiler means lower utility bills for your building. It also helps extend your boiler's lifespan and prevents the need for a sooner than necessary replacement.
Signs a Commercial Boiler Needs Maintenance
These are the major signs you should pay attention to, as they most likely indicate that your commercial boiler needs maintenance soon:
Your boiler isn't properly heating your building despite the pipes and radiators functioning
Hearing unusual noises coming from the boiler
Your energy bills are increasing despite normal usage
You see a drop in pressure levels
Your boiler either repeatedly goes on and off (short-cycling) or runs continuously without cycling off
You notice water leaking from the boiler or boiler components
Any of these signs are examples of the system not operating properly or even becoming less efficient. A qualified commercial boiler technician will be able to diagnose the cause of your boiler issues and get your system back on track.
What's Included in Commercial Boiler Maintenance
Annual Boiler Maintenance
A boiler professional should do the following tasks annually outside of the heating season (May–August):
Combustion analysis
CO testing
Check and oil circulator(s)
Check and adjust the flame sensor
Check and adjust gas valve(s)
Check the burners and ignition system for proper operation
Clean pilot, pilot assembly, and tubing
Check thermocouple
Check for spillage (check flue pipe for obstructions or leaks)
Flush and clean glass gauge and assembly (steam boiler)
Check water feeder
Check feed valve
Check low water cut-off
Monthly Boiler Maintenance
These tasks should be performed as part of regularly scheduled boiler maintenance, which should be done throughout the year by your building's maintenance staff or a qualified plumbing and heating professional:
Water levels/check gauge glass
Check compressor for oil levels
Flush low water cut off and test
Flush blowdown low water column
Flushing boiler main blowdown
Check boiler operating pressure/temperature
Condensate temperature and/or visual for live steam at receiver (if heat is on)
Check smoke alarm lens
Visual check of combustion
Inspect fresh air louver/fans/motorized damper
If domestic auto mixing valve, check temperature
Check general boiler/burner operation
Check for leaks in boiler room
Check general boiler room appearance
Check if steel boiler chemically treated
Check boiler room sump pump, if existing
Contact Ranshaw for a Smooth Commercial Boiler Inspection.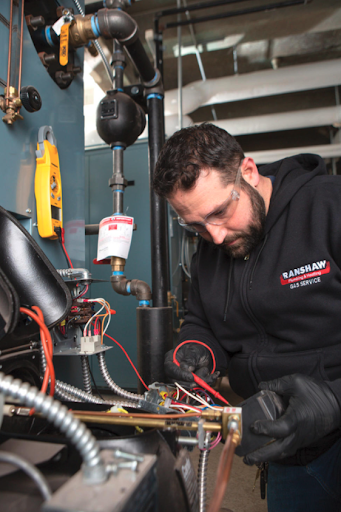 If you're ready to schedule service for your commercial boiler by trusted professionals, Ranshaw has you covered. For over 60 years, businesses in the Queens and NYC area have relied on our expertise to properly service and maintain their commercial heating systems. Call us today at (718) 767–0707 or schedule below to experience 5-star service.
Schedule Today
---
Similar Articles:
Serving the NYC metro area, including:
And everywhere in between!