How to Fix a Leaking Pipe: Tips from an NYC Plumber
June 10, 2021
---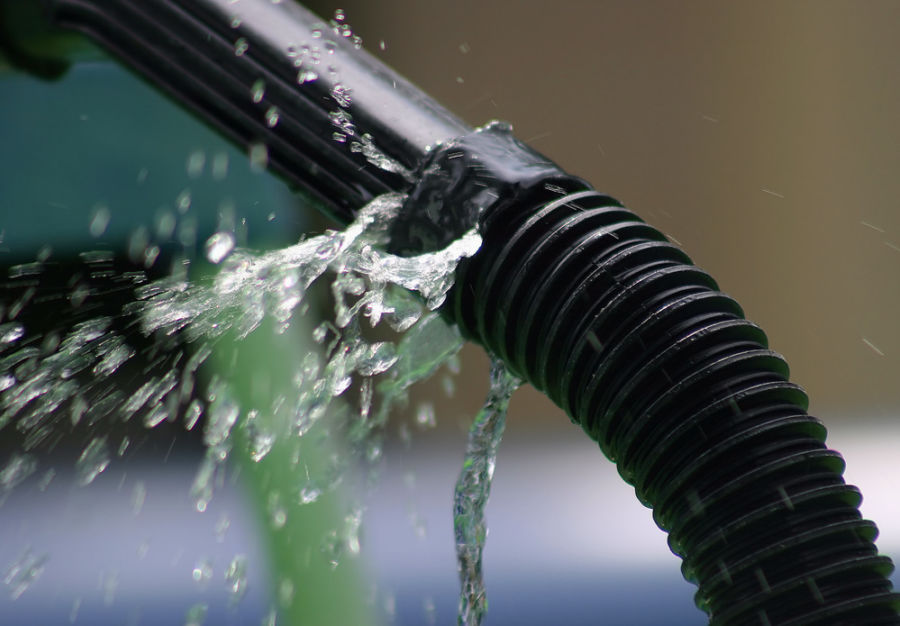 If you've recently discovered a leaky pipe in your home, you'll definitely want to have a professional inspect it to diagnose the source of the leak and repair it correctly.
However, you may find yourself in a situation where a plumber can't assist right away. In which case, you'll need to find a temporary solution for your leaking pipe to prevent further damage.
In this article, we'll outline a few ways to band-aid a leaking pipe before a licensed plumber can come.
---
Need a plumber you can trust to fix your leaking pipe? Trust Ranshaw. We've been performing pipe leak repairs in the New York City area for over 60 years and know how to get the job done right—the first time around.
Request repair
---
Step 1: Shut off the water supply to the pipe
The very first thing you'll want to do after discovering a leaking pipe is to shut off the water flowing to the pipe. Turning off the water will prevent further damage as well as saving your home's plumbing from a potential structural breakdown.
Depending on the situation, you may need to shut off the main water supply, or you may only need to shut off the water to a particular appliance. For example, if a pipe directly under the kitchen sink is leaking, you can try shutting off the water valve to the kitchen sink to see if this will stop the leaking. Shutting off water to just one appliance/area will cause less of a disruption to your daily schedule.
If you need help shutting off the water to a particular pipe (or shutting off the main water valve), check out our article, How to Shut Off Your Main Water Valve: Explained by an NYC Plumber."
---
Step 2: Apply a temporary solution
Depending on the extent of leaking, you may be able to further prevent water damage by applying a temporary solution. We've provided a few suggestions to help minimize damage until a professional plumber arrives.
Temporary solution #1: Epoxy putty
Epoxy putty can be a suitable temporary solution for minor leaks. This solution works well because it is incredibly flexible and can mold to fit the contours of any leaky pipe.
You can find epoxy putty at most hardware stores. Ensure that the pipe is dry before applying the putty, and make sure you wear gloves when handling epoxy. The material hardens within an hour of application, so be careful to work quickly and make sure you cover the entire leaking area. Also, keep in mind that epoxy putty is recommended only for copper or galvanized steel pipes.
Temporary solution #2: Pipe clamps
If the leak is small and contained, a pipe clamp might be a suitable temporary solution to prevent further water damage.
Pipe repair clamps are typically metal and contain an interior rubber pad that clamps over the leak. This solution is relatively inexpensive and easy to install but keep in mind that it should be used only as a temporary solution. Without a more permanent fix, a leak can worsen over time and leave you with a more expensive repair down the road.
Temporary solution #3: Self-fusing silicone tape
Another "quick fix" for a leaky pipe is to apply silicone tape to the leaking area. You can find this type of tape at most home improvement stores. Just be sure that you find tape that is waterproof and adheres to itself. Wrapping the entire diameter of the pipe with a self-fusing silicone tape can create a strong enough, durable barrier that prevents leakage until a professional can provide a more permanent solution.
Keep in mind that most silicone tapes don't hold up well on high-pressure pipes and/or environments with extreme temperatures.
Note: We do not suggest using duct tape on leaking pipes. Duct tape isn't waterproof and thus won't hold up for long.
---
Step 3: Contact a professional
Remember that all of the solutions discussed above are only temporary solutions. The only suitable permanent solution is to have a licensed plumber come to your home, inspect the leaking pipe and determine the appropriate long-term solution.
Unfortunately, a leaky pipe might indicate more significant plumbing problems that only a professional plumber can diagnose, such as abnormally high water pressure or pipe corrosion.
When you call in a professional plumber, they will come with professional equipment and the experience needed to diagnose any underlying problems correctly.
Depending on the issues they find in your plumbing, a plumber may need to:

Perform a leak detection test to find other leaks in your plumbing that might otherwise go undiscovered (and eventually cause extensive damage)
Replace the leaky portion of the pipe altogether, which requires soldering, precise pipe fitting and advanced equipment
---
Need an NYC plumber you can trust?
Ranshaw Heating and Plumbing has performed hundreds of pipe leak repairs in the NYC area for 60+ years. Our licensed plumbers are experts in providing fast pipe repairs done correctly and thoroughly—the first time around.
If you're looking for a plumber who will accurately diagnose your leaky pipe problems and provide fair and honest pricing and service, schedule with Ranshaw today.
Request repair
Serving the NYC metro area, including:
And everywhere in between!