Benefits of Installing a Smart Thermostat
March 15, 2022
---
A smart thermostat can give you greater control over the comfort of your New York home.

Are you looking to have more control over the comfort and convenience of your Queens, NY home? Are you interested in saving money on your monthly energy bills? If so, you may want to consider installing a smart thermostat.
A smart thermostat is a programmable thermostat that connects to your WiFi and can be monitored remotely from any smartphone or smart device. Smart thermostats have a ton of useful features and offer a variety of benefits to homeowners, including:
Saving money on energy bills
Remote access to your thermostat
Real-time service reminders
Reporting on your energy usage
If you want to learn more about the benefits of installing a smart thermostat, keep reading.
---
Looking for an experienced Queens heating company to help you choose the right smart thermostat for your home?
Contact Ranshaw today: (718) 767-0707. One of our expert heating technicians will provide you with professional recommendations on various smart thermostat options and upfront quotes.
Schedule Service
---
Saving Money on Energy Bills
One of the most desired features of a smart thermostat is automatically setting a cooling/heating schedule. This feature helps households conserve energy and optimize energy consumption.
So, how does it work?
After your thermostat is installed, it begins "learning" how your family typically sets and adjusts temperature settings throughout the day. The thermostat will automatically adjust your home's temperature to your preferences based on the data it has collected over time. Once the schedule becomes automated, you no longer need to worry about making adjustments to your thermostat throughout the day, and your home will be heated or cooled to your liking without the hassle of managing it manually.
Besides the convenience factor, establishing an automatic cooling/heating schedule can reduce your energy costs. For example, suppose you or your family are away from home during the workday. A smart thermostat can automatically raise or lower the temperature to minimize energy use when your home is empty. The less your heating system has to work, the lower your monthly energy bills will be.
Remote Access to Your Thermostat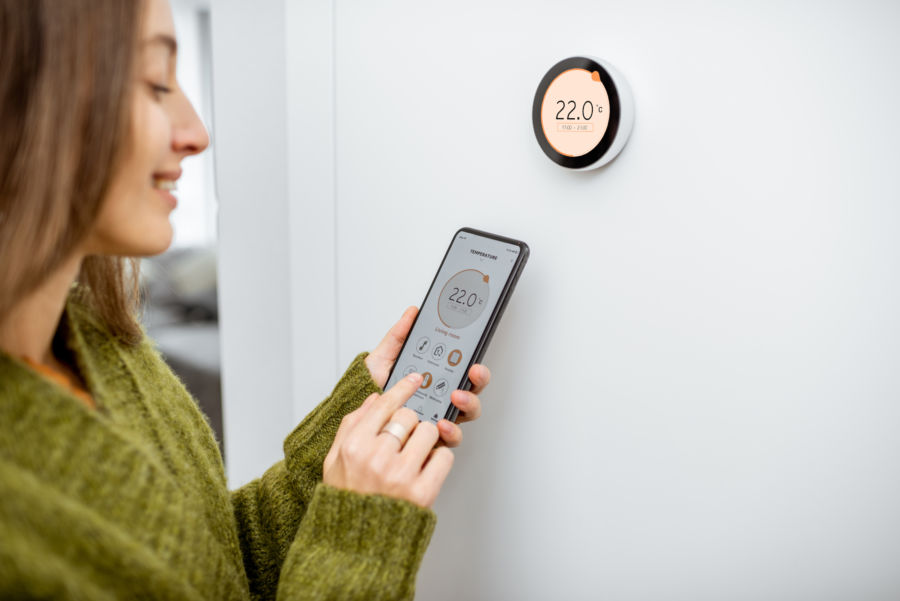 Another significant benefit of a smart thermostat is the ability to control your home's heating and cooling from anywhere, as long as you have a smart device with a WiFi connection. Whether you're across the street at a neighbor's house or across the country on vacation, you will always have complete insight and control over the temperature inside your home.
So, what does that mean exactly? Smart thermostats come with a corresponding app that you can download onto your smart device. On your app, you can check the temperature of your house, change the settings, access energy usage reports, and more.
That means you no longer have to worry about forgetting to lower your thermostat or adjust settings before leaving the house. The days of accidentally heating or cooling an empty house will be behind you. As long as you have a smartphone with a cellular connection, you can adjust your thermostat to your preferred settings.
Real-Time Service Reminders
Forgot the last time you changed your air filter? Not sure when to schedule maintenance for your furnace or boiler?
With a smart thermostat, you can receive automatic reminders for needed maintenance or repairs, saving you any hassle, time, and potentially money.
Tune-ups are essential to preserving the lifespan of your heating system, ensuring that the system is performing well, and keeping you and your household comfortable. Knowing the importance of heating system maintenance, you can appreciate the convenience of alerts.
Want to take the guesswork out of maintaining your heating system? Consider joining one of Ranshaw's gas service plans, and we'll keep an eye on the health of your boiler for you! Contact Ranshaw today to request a plan or learn more.
Reporting on Your Energy Usage
Besides its learning capabilities, a smart thermostat can also provide you with the data needed to reduce your monthly energy bills.
You can see how much energy your heating system uses in the smart thermostat's corresponding app or your email inbox. Over time, the report will track your consumption and compare usage to similar homes in Queens. Additionally, these reports often contain tips to help you reduce your energy use, make your home more efficient, and help save you money.
Need a Smart Thermostat Installation From Trusted Queens Pros?
For more than 60 years, Ranshaw has served Queens residents with expert heating service. Our highly skilled and trained heating professionals will help you find the best smart thermostat system and features for your home, comfort needs, and budget. We offer a variety of smart thermostat systems to choose from that will help you save money on your energy bills and make maintenance easier to remember.
Learn more about what to expect when hiring Ranshaw by visiting our smart thermostat installation page or calling us at (718) 767–0707.
Schedule Service
Serving the NYC metro area, including:
And everywhere in between!