Can I Add a Thermostat to My Heating System?
November 07, 2023
---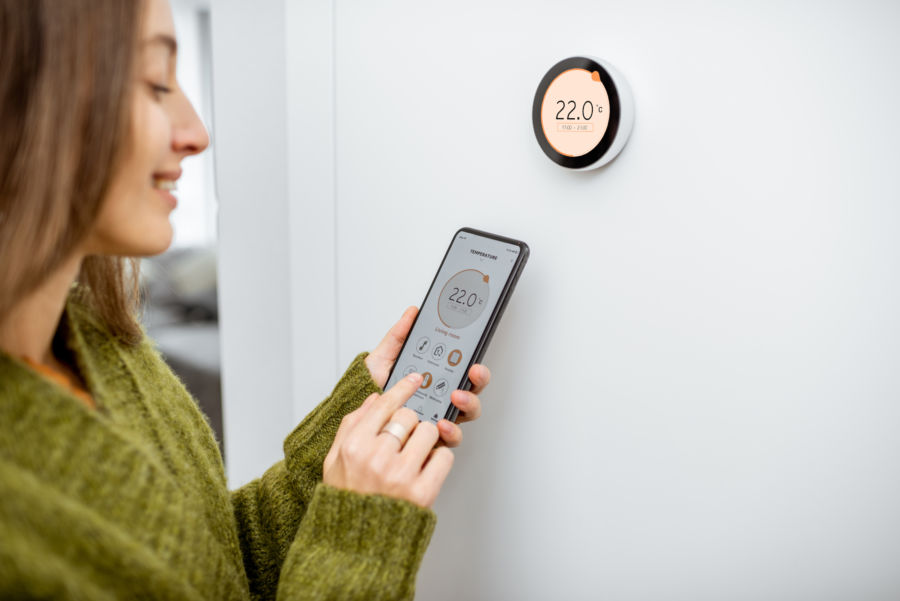 Achieving a comfortable temperature throughout your home can be difficult, especially with one thermostat controlling heat for the entire house. One room may be too hot, another too cold. If you've ever wondered whether you can add a thermostat to your existing heating setup to gain more control over your home's warmth in more than one location of your home, you're not alone. The answer? It depends on the type of boiler you have. In a hot water system, adding multiple thermostats is possible, but modifications to your boiler and plumbing may be required. If you have a steam system, adding additional thermostats is not an option.
The good news is that advancements in technology have made it possible to utilize smart wifi thermostats with integrated sensors for greater control of heat in multiple locations of your home without making enhancements to your boiler or plumbing systems.
This guide showcases the benefits of adding a smart thermostat to your home's heating system and how to choose the right thermostat for your needs. We also compare professional installation advantages with DIY options to help you decide how to add a new thermostat to your heating system.
Benefits of smart thermostats
Wiring and compatibility
Professional installation vs. DIY
---
Interested in a new thermostat?
When you need help with heating system issues, contact Ranshaw Plumbing & Heating at (718) 767-0707. From installing a new smart thermostat to providing fast repairs for all boiler brands and models, our trained boiler technicians do the job right the first time with honest, upfront pricing.
Schedule Service
---
Benefits of Smart Thermostats
Consider a smart thermostat over traditional options when installing a new one in your home. One advantage of these units is that they integrate easily with other smart home devices, granting centralized control of all your smart appliances from a single location. Other benefits offered by smart thermostats include:
Remote Sensors
Certain Wi-Fi thermostat models come equipped with wireless sensors that can regulate the temperature in multiple rooms/floors of your home. This is a great feature, especially if only one thermostat controls heat for your entire home. For example, if your thermostat is on the first floor, your boiler will turn on based on the temperature being read at that thermostat only. But what happens when the temperature on the second floor becomes cooler than the first floor? No heat on the second floor! This problem is solved by utilizing a remote sensor on the second floor. With a remote sensor, the boiler will turn on and provide heat based on the temperature at the second-floor sensor instead of relying solely on the temperature at the first-floor thermostat.
Energy-Efficient Design
Though traditional thermostats let you program them to suit your schedule, smart thermostats go one step further by learning your home's heating and cooling patterns and automatically adjusting temperatures to match them. Remote control lets you change things manually if necessary, like when you will be away from home for a while and want to keep temperatures lower until you get home again.
Convenient to Use
Smart thermostats enable changes to be made at the unit and via smartphone apps and voice assistants like Alexa. This means you can adjust temperatures from anywhere in your home — or even when you're away. Likewise, this digital connectivity lets you explore data insights such as heating habits that affect your energy consumption.
Capacity to Learn
Because smart thermostats learn as they go, they adapt to your lifestyle and schedule by knowing when you're home and when you're not. Over time, smart thermostats help you optimize the heating settings for increased comfort while working, playing, and sleeping — all while reducing energy consumption and waste.
Wiring and Compatibility
Though the technology behind a smart thermostat is complex, installation of the units usually isn't for those with a little mechanical know-how. Detailed installation guides walk you through the process; most heating systems are compatible with these options. With that in mind, let's explore wiring and compatibility issues you might encounter when adding a smart thermostat to your heating system.
Wiring Smart Thermostats
Most smart thermostats require a C-wire (common wire) to power them, but if you don't have one, you can typically use adapters or other workarounds. Some units even work without one by deriving power intermittently from other sources. If you're unsure about the process, consider calling Ranshaw to benefit from our 60+ years of experience with heating issues.
Professional Installation vs. DIY
Opting for professional installation while adding a new thermostat depends on how comfortable you are with technology and electrical wiring. Let's look at the pros and cons of each approach.
Professional Installation
The main advantage of professional installation when adding a thermostat to your heating system is experience. When you choose professionals like the trained boiler technicians at Ranshaw to do the work, you get dependable quality backed up by 4.8/5 rating on Google Reviews. Likewise, these professionals understand the complexities of wiring and how to troubleshoot issues when they arise. The expense is the main disadvantage of hiring a professional to install a smart thermostat. Still, this investment can also deliver peace of mind and keep setup complications to a minimum, saving you time and money in the long run.
DIY Installation
Installing your heating system's new thermostat can save you money and give you a feeling of accomplishment. Unfortunately, even simple electrical tasks can be complex if you don't have much knowledge of wiring, so those taking the DIY approach must pay careful attention to the installation guide. Likewise, issues can arise when DIY installers encounter nonstandard wiring or incompatible heating systems, which may necessitate professional rewiring to complete the thermostat installation.
---
Ready to install a new thermostat for your home?
Looking to add a new thermostat to your heating system? Call Ranshaw Plumbing & Heating today at (718) 767-0707 to schedule an appointment with our reliable technicians, who will provide honest, upfront pricing on your smart thermostat installation.
Schedule Service
Serving the NYC metro area, including:
And everywhere in between!